A
Home 2.0
Achoo is your influencer marketing platform built for effortless influencer discovery, relationship management, campaign activation and reporting for Blogs, Ins...
Adinject
It's a Google for Outreach. An integrated platform to find influencers, affiliates and bloggers and run a smooth outreach campaign.
ERROR: The request could not be satisfied
#1 Referral Marketing Software by Ambassador
The world-leading referral marketing software, running today's most popular referral programs.
Instagram Analytics & TikTok Analytics | By Analisa.io
Instagram Analytics and TikTok Analytics for any public Profile, Hashtag, or Followers. Get campaign reports and follower demographics. Free-to-use.
AspireIQ | The leading influencer marketing platform
AspireIQ is the leading influencer marketing platform, helping the next generation of e-commerce brands scale.
B
Brand24 - Social Media Monitoring Tool
Get instant access to conversations relevant to your business, grow customer satisfaction and sales. Start now for free!
BuzzSumo: Find the content that works and the influencers who matter
Run a search to quickly discover content ideas, uncover platform insights, identify passionate influencers and more. Start your free trial now!
C
Captiv8 - End-to-End Influencer Marketing platform for data-driven branded content
Amplifying Brands through data-driven Influencer Marketing. From Social Listening and Creator Discovery to Workflow Management and Reporting
Cision - Global Cloud-Based Communications and PR Solutions Leader
Cision covers all aspects of your communication needs, helping you reach, target and engage your audience.
Community.com
Connect instantly and directly to your audience through text messaging at scale.
CreatorIQ | Enterprise Influencer Marketing Platform
CreatorIQ helps brands and agencies run influencer marketing campaigns at scale. Discover creators, build a private network, manage campaigns, and report beauti...
Bazaarvoice: Meet shoppers in all the moments that matter | Bazaarvoice
Bazaarvoice connects you to consumers so they can discover you, be inspired to choose you, and buy with confidence. Data and content from our shopping network p...
D
Dovetale - Helping Brands Build & Grow Communities
Dovetale is a community building and collaboration platform designed to help e-commerce merchants grow affiliate programs.
F
YouTube BrandConnect Overview - YouTube Help
YouTube BrandConnect is a monetization service that connects creators with brands for branded content campaigns. YouTube BrandConnect helps you get paid to incl...
FamePick | Influencer Agency Redefined
FamePick offers next level talent management services by combining cutting-edge technology w/ 10+ years of industry know-how to fuel the next great content crea...
G
Ghostlamp Influencer Marketplace
Ghostlamp enables brands and creators (influencers) to connect and collaborate on campaigns. Find, hire, manage and pay influencers while receiving state of the...
GRIN - #1 Influencer Marketing Software Platform
GRIN is the best influencer marketing software for ecommerce brands. Our AI-powered platform includes 32m+ influencer suite, campaign workroom, reporting & anal...
Digital Marketing Performance with Intent | Mintent Digital Agency
Marketing with Intent is our promise. Digital marketing strategies drawing upon decades of experience is our proof to all our clients.
H
Improve your influencer marketing and get consumer reviews | Hivency
Hivency brings together consumers, influencers and brands to create authentic customer experiences. Boost your revenue with customer reviews & influencer market...
Social Media Marketing & Management Dashboard - Hootsuite
Enhance your social media management with Hootsuite, the leading social media dashboard. Manage multiple networks and profiles and measure your campaign results...
Check an influencer before paying them | HypeAuditor Youtube, TikTok & Instagram AI analytics
Find fake influencers, followers, likes, comments, and engagement. Check blogger's instagram authentic engagement, detect fake & spot ghost followers. Don't pay...
I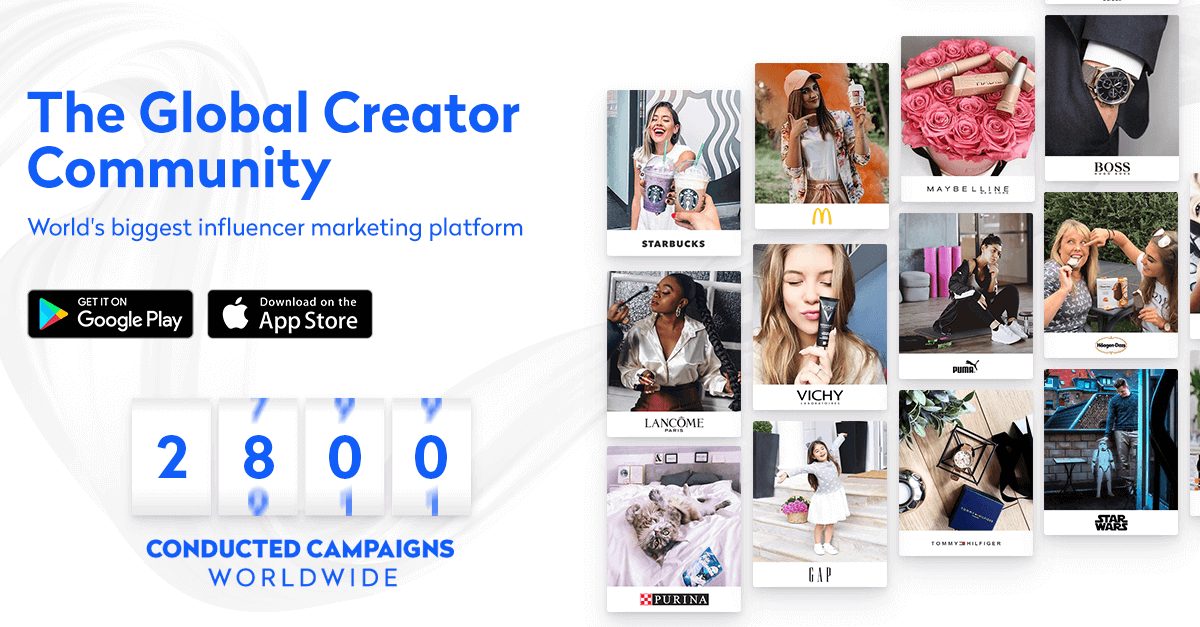 indaHash - influencer marketing app for brands and influencers
indaHashは、デジタルインフルエンサーを使用することによって世界的にキャンペーンを実施する国際的なインフルエンサーマーケティングプラットフォームである。
https://www.influencerintelligence.com/
Influentia - La solution pour votre marketing d'influence !
Tout pour gérer votre marketing d'influence. Trouvez vos influenceurs, optimisez votre ROI, gagnez en notoriété et générez des ventes !
Influential - The Leader in Branded Content Conversion
Influential uses AI to optimize creative, build audiences, and track online and offline attribution using creator content.
Influencer Marketing for Everyone
Intellifluence is an influencer marketing service that enables brands and influencers to connect, collaborate and reach their goals.
J
Influencer Marketing Solution | Manage All Your Campaigns | Julius
Tell your brand's story with the Julius influencer marketing solution. Find the right influencers with in-depth profiles, and manage campaigns in one place.
K
Influencer Marketing Platform | Klear
Klear is an influencer marketing platform that helps brands build, scale and measure influencer campaigns.
L
Leading Brand Development Marketing Software | Launchmetrics
Create Inspiring, Impactful and Measurable Brand Experiences in one comprehensive marketing platform for industry executives.
Lefty | The influencer marketing platform for leading lifestyle brands
Lefty is an influencer marketing platform that helps the world's leading consumer brands discover relevant influencers, manage them and measure their impact.
M
Media Monitoring with Mentionlytics Intelligent Platform
The Intelligent and easy to use Media Monitoring Tool. Ideal for Startups, Small-Medium Businesses and Personalities. Try it now!
MuseFind | Contact influencers. Grow your business.
#1 Influencer Marketing Platform For Small Businesses. MuseFind Is Easy To Use To Find, Contact Real And Responsive Influencers To Grow Your Business.
Mysocial | Empowering Creators
Welcome to your professional community for creators, influencers and artists. Join Mysocial for free.
N
NeoReach: Influencer Marketing for Global Brands
Seamlessly search, manage, and track user-generated content campaigns.
O
Outbrain - Recommendation Platform Powered by Native Ads
Outbrain is the technology company powering the discovery feeds on your favorite media.
P
Influencer Marketing Tools for Agencies and Brands I Paladin Software
Influencer marketing campaign software for YouTube, Instagram, TikTok, and more. Manage relationships, generate reports, and automate payments.
Payment Rails - Global Mass Payments, Payout API, B2B Payments
Payment Rails is simplifying global payouts for online marketplaces, share economy, crowdsourcing platforms, app stores, affiliate platforms and many more. Simp...
Phlanx: Social Media Marketing Platform
Phlanx is a marketing platform to contact influencers, work with brands, create contracts and measure engagement
Pitchbox | Influencer Outreach & Link Building Platform for SEO Teams
Link building, influencer outreach and content promotion platform for agencies, publishers, and brands.
Influencer Marketing & Content Creation at Scale | Popular Pays
Popular Pays is a platform for collaborating with creators and influencers. Use the Pop Pays platform to execute your influencer marketing or content creation s...
PR Software for better, faster PR
Prezly provides software for communications teams that want to do more. Manage your media relations, create online newsrooms, and publish and pitch your stories...
Product Lead - Create Meaningful Customer Journeys With Social Data
Skyrocket your social media marketing performance with ProductLead. Request a demo to learn how we can help you make the most out of your social media data.
Prowly – PR & Media Relations Software
Prowly lets you find media contacts, create targeted media lists, pitch effectively & more. Free 7-day trial. Rated 5/5 on Capterra. Trusted by 5000+ experts.
Q
R
Referral Rock | Referral Software and Affiliate Marketing
Launch an on-brand sharing experience that generates more referrals and brand awareness for ANY business (not just e-commerce). No developers required.
Renfluence - The #1 Automatic Global Influencer Marketing Network
We have created the best tools in order to connect brands with the most suitable influencers, so that advertising messages could be directed to the most appropr...
Riders Match
Riders Match - Best Extreme Sports Media
S
The Integrated Influencer Marketing Platform | Sideqik
Sideqik is the leading influencer marketing platform - providing data for more social networks than any other provider to help you reach your audience regardles...
AI-Powered Social Media Marketing Suite
Work smarter on social media. Engage & grow your customer base by adding the power of AI to your marketing decisions.
Top Influencer Marketing Software Platform | Influencer Outreach – SocialBook
Searching for top influencer marketing software platform to find influencers online? Get started on SocialBook for easier influencer outreach and management
Home
Fast. Authentic. Effective. The world's first AI powered creative platform to create engaging customer experiences. Data-backed insights that inform what qua...
Sprout Social: Social Media Management Solutions
Reimagine how social media can grow your business with Sprout Social. See our social media management tools in action. Start your own free trial today.
T
Influencer Marketing Automation | TapInfluence
TapInfluence is the leading influencer marketing automation solution for brands and agencies. Schedule a demo of our software today!
Traackr I The Data-Driven Influencer Marketing Platform
Traackr is the system of record for data-driven influencer marketing that marketers use to invest in the right strategies, streamline campaigns, and scale progr...
The influencer marketing platform for ecommerce - TVPage
Micro-Influencer Marketing Platform and Network
Trend helps brands scale influencer marketing and user-generated content through our invite-only network. Save time, stop negotiating, and build an ROI.
U
The leading Influencer Marketing Platform for e-commerce | Upfluence
Upfluence is the first influencer marketing platform for e-commerce. Turn influential customers into brand ambassadors. Increase sales with social commerce and ...
V
W
Influencer marketing done right. Creators with influence. | Whalar
Whalar is on a mission to Liberate the Creative Voice and make advertising more inclusive, diverse and effective.
X
Y
Z